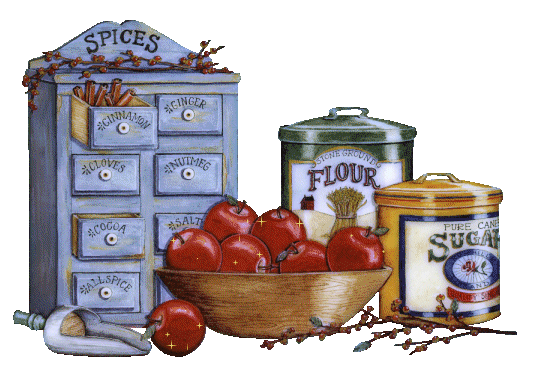 You will Need:

1 large cooking apple, washed and cored

3 tablespoons dark brown sugar

2 tablespoons raisins

1 tablespoon butter

Water

* Preheat oven to 375 degrees

* Cut a 1 1/2-inch circle of skin off the top of the apple, and also

slit the skin around the apple for expansion while baking.

* Mix the brown sugar and raisins.

* Place apple in a small ovenproof dish.

* Fill cored opening with the sugar and raisin mixture, then top with butter.

* Pour enough water into the pan to come halfway up the side of the apple.

* Bake the apple for around 45 minutes, or until soft.

The weather's been cool today, and I've been craving apple pie.

So, I'm going to bake some apples instead.

I think I'll use some brown sugar subsitute in place of the real brown sugar.

Mumzie